Ask God's Creatures®: and They Will Teach You
By: Shannon Skokos
---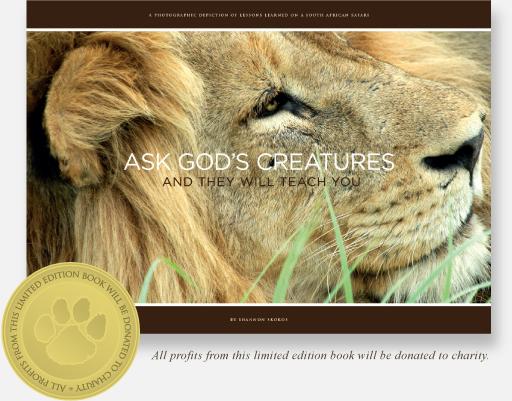 Author and photographer Shannon Skokos was led on a life-changing excursion through South Africa's untamed wilderness. Her images are mesmerizing and provide a glimpse into the vast diversity of mammals, birds, insects and reptiles that inhabit Kruger National Park. Her insightful text inspires the reader to carefully evaluate his daily walk with God and to gain wisdom through the study of His creatures.
Details
Hardcover: 164 pages featuring 169 high-gloss and up-close color photographs of South Africa's untamed wilderness with 5 hand-inserted cut sheets of inspirational biblical quotes.
Illustrations: Original illustrations of the "Big 5"
ISBN: 978-1-935463-01-6
Product Dimensions: A 14.6 x 10.8 x 0.75 inch landscape format coffee table book.